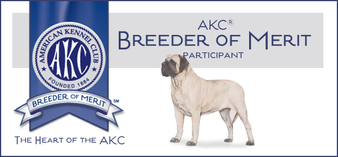 Home of WORLD CHAMPION
TONKA of Dragonhall Mastiffs

"The Magnificent gliding bitch"

Dragonhall mastiffs has been established since 1984 we breed for the betterment of the breed. All our mastiffs are AKC (American Kennel Club) Registered.We strive to bring you the best possible mastiffs for companion and showing with soundness, Great temperaments, & the best of health. All our mastiffs are health screened tested and have been OFA. All this is to bring you top quality mastiffs.
We are honored to of been owned by the #1 Mastiff of the World. "World, multi, Am. CH. Groppetti Tonka Of Dragonhall" CGC TDI
Tonka was # 1 bitch to achieve this title of World Champion representing the USA and the 2nd mastiff to ever win the Big World Show from the USA. Tonka also, was BOB (Best of Breed) at the prestigious Westminster Dog show at Madison Square Gardens in New York City. It had been 18 years since a bitch had won there then Tonka did it. Tonka was also #1 mastiff Bitch in the USA.
We have a really nice mastiff bitch out showing now who is doing very well for herself. "GCH. CH.Dragonhalls Lady Layla". Layla is the youngest mastiff with AKC to get her Grand Championship points at the young age of just turning 10 months old. We are so proud of her.

There are many loving homes that our sweet babies have been placed in for companionship as well as homes for showing. If you are interested please call or email me anytime with your questions and concerns. I am here to help you out. Thank you for visiting our website.

Sherry 813-855-9344 or 813-451-3445
Dragonhallstonka@hotmail.com
Tampa, Florida USA
At Dragon Hall Mastiffs we are dedicated to providing life long companions. Our dogs have some of the strongest and most famous mastiffs you will find in their family trees. At the end of the day though, we know they own your heart! This is why we put such care into health testing our dogs. We select our matings only to improve the breed. With medical histories that
will help your dog have the best chance at a long healthy life coupled with amazing temperaments passed on genetically, the science has been established... You provide the love!